JYJ3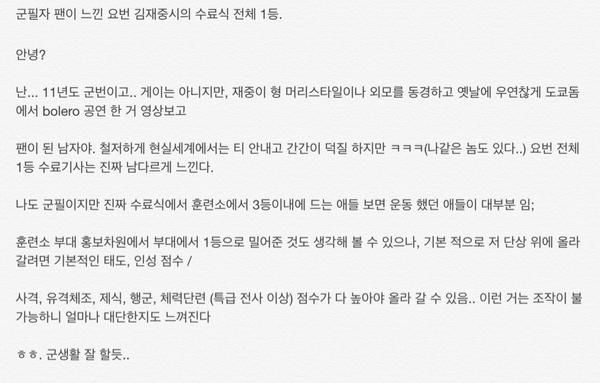 [TRANS]
An ex-soldier fan shares his impression on Jaejoong's 1st place finish on Army Training Camp
Hello?
I'm… My militar serial number start with 2011 (Started military service in year 2011).
I'm a man (not gay, though) who always admired Jaejoong hyung for his hairstyles and appearances
I became a fan after watching him perform Bolero at Tokyo Dome by chance long time ago.
I hide my fanboy identity meticulously in real lifeㅋ ㅋ ㅋ (there exists a guy like me out here..)
I really felt special after reading the news about (Jaejoong)'s 1st place finish.
I did serve in the Army but guys who place 1st, 2nd and 3rd are usually former athletes.
One may sure assume that the army division pushed him to become the first place winner in order to promote the division.
However, one must have high marks on all of the following categories in order…
View original post 53 more words